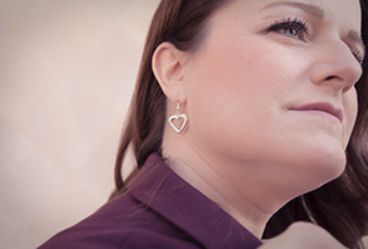 One day, Meri and I decided to go window shopping at jewelry stores in the mall just for the fun of it. We would pick out our favorite piece in each display case and tell each other why we liked it and then move on. We even tried a few things on. It was a blast. One of the things I realized though was how our taste was so different. She liked more modern, sleek, original pieces and I liked more traditional ornate ones. To be honest, I think we both secretly disliked each other's selections ha-ha! It didn't matter though, we enjoyed our little date.
My Sisterwife's Closet was originally my dream, but Meri was supportive from the very beginning and she and I worked well together. She really liked my dream of making sure our pieces were made in America, were hand-crafted and high quality. I continued to push to have Kody, Christine and Janelle work with us too, because I really wanted the experience of working on a big project together. They had been together for a long time bonding before I married Kody and joined the family and I was craving something that would help bond the five of us. I also saw the potential of having each of our different styles of us four sisterwives going into products and pieces. I really thought it would make the brand richer. I loved the idea of reaching so many women with our different perspectives.
It was definitely an adventure working together. We spent time bonding and rubbing off the rough spots in our relationships and learning about each other. As time went on we realized we had different interests and not everyone was as passionate about jewelry as I am. With so many children to provide for and to get through college; having multiple streams of income to support our big family is smart so some of my sisterwives and Kody decided to pursue other business ventures while I continued to work doing what I love.
But we all support each other's business ventures, since our goal has always been to work together to take care of the family. Our business conversations are a lot of fun!
I still love the idea of reaching many different women with my designs, but again my style and tastes appeal to only so many so I have decided to work with the many wonderful women in my life to come up with a line of jewelry that accommodate other styles and tastes. The "Sara" necklace and earrings are the first of that line. I worked with my sister, Sara closely to come up with a design that she loves. It was a lot of fun. She really wanted a cluster button earring since she likes something smaller hanging on her ear and the matching necklace was a beautiful addition. I decided to name each piece after the woman I worked with to honor her a little bit. We as women need to honor each other in life more.
I am already working with other special ladies in my life to come up with different designs, so keep checking back and seeing what new designs have been released. You may find something that really touches you and helps you tell your story!
My Sisterwife's Closet